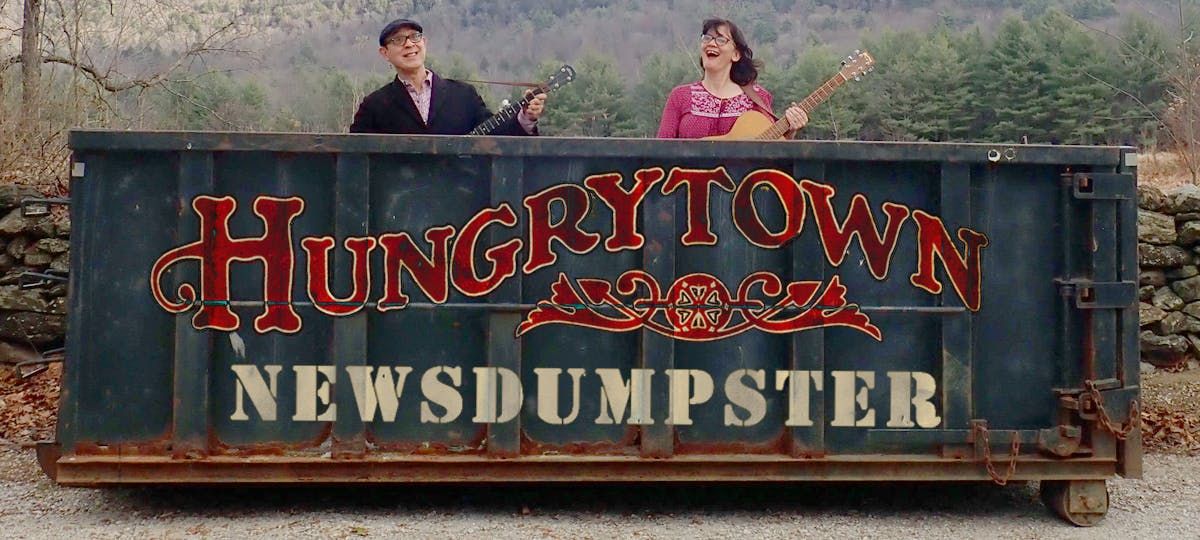 MAY 2022 
"Testing, One, Two."
"Rebecca, You're Sound Checking Your Coffee." 
Give us a break--we haven't done this in a while. When the Newsdumpster last left off in early 2020, the year was still full of promise and baby giraffes. We were finishing up our Further West winter tour of California and were looking forward to our imminent Midwest and UK tours. Obviously, we changed our plans. 
For her safety, we picked up Ken's mom, Reiko, from her seniors-only apartment in Boston and brought her back with us to Vermont where she lived for nearly a year, until a vaccine became available. 
Though it was something of a culture shock being forced off our touring schedule, our extended stay at home allowed us to figure out several things, including: 
where that smell was coming from. 
that Rebecca really likes to garden and is really good at it. 
that Rebecca really likes to cook and is really good at it. 
that Ken really likes to eat and is really good at it. Okay, we knew that already. 
how to set up our new recording studio well enough to record our latest album, which is now approaching completion. 
our window panes are too narrow for a regular squeegee. 
The takeaway from all this is that we're about to hit the road once again next week for our six-week 2022 Mid by Midwest Tour. Please check calendar at our website.
---
Our Home State Shows Us Some Love
The Vermont Arts Council and the Vermont Community Foundation awarded us a nice couple of grants for paying the visual artists who are helping to create the visual spectacle portion of our upcoming album. Huzzah!
---
Bert Jansch's Ghost Shows Us Some Love
As you may know, we're big fans of '60s and '70 British folk music, and one of the best and most important bands of that era was Pentangle, featuring legendary guitarist, singer and songwriter, Bert Jansch, who also had a successful solo career. 
Bert died in 2011; since 2013, the Bert Jansch Foundation has been providing support to young acoustic musicians by way of grants, workshops, transcriptions and educational opportunities. 
A couple of years ago, the foundation arranged for five special Jansch-type guitars to be sent around the world for musicians to perform a song in his memory, sign, upload and pass along to another fan. Four guitars stayed in the UK and Europe and one flew to the US. The endeavor was called Around the World in 80 Plays, and featured luminaries like Richard Thompson, Tommy Emmanuel, Cara Dillon, Lankum and our brilliant friend Sarah McQuaid. Hungrytown was honored to have a part in it--we did our rendition of Jansch's lovely "Morning Brings Peace of Mind," which you can see here. 
In fact, we liked our version so much that we decided to record it for our upcoming fourth album, which we expect to finish after this tour. 
We also did a radio roundtable with other people associated with the 80 Plays project, hosted by Vermont's own Rik Palieri. You can hear the whole show at our News/Blog department here. And you can read Rebecca's blog entry here.
---
Do You Ever Ask Yourself, "What Can I Do to Support Hungrytown?" LOL, Neither Do We. 
We thought it might be fun and little profitable to offer a small-time subscription service featuring stuff unavailable or hard to find, as well as being a place to share new songs and promo before they reach the hoi polloi. 
That's why we urge you to sign up for Hungrytown's new Patreon content and become an Official Showcaser for a measly five US bucks a month (or even more if you're feeling like a big shot). At the moment, we're uploading, song by song, a concert that we heretofore didn't even realize had been professionally videotaped. It was at the legendary, now-defunct, 12-Bar Club in London back in 2001. At that time we were performing as Rebecca Hall and the Falling Stars, and featured Rachael Birkin on violin and Dan Green on bass.
---
You can see all the photos we've posted over the past few years and beyond by sifting through our ponderous Facebook Photo Albums page. 
Timmy: Mommy, why do you still like Hungrytown? They didn't send you anything for more than two years? Brad: I don't like Hungrytown. And I'm not your mommy. 
Timmy: Then why did you sign up to become one of the first Official Showcasers at their new Patreon site? You could have gone to hungrytown.net or facebook.com/hungrytown for free. 
Brad: I felt pity. And shame. I didn't mean to hurt all those people. 
Timmy: What are you talking about?
---
PLEASE SEE OUR SHOW CALENDAR BY CLICKING HERE.
Hungrytown is a Martin Guitar Player.
​ 
​ 
​